Write for the Cliosoft Blog!
If you're an expert at helping people, our audience wants to hear what you have to say.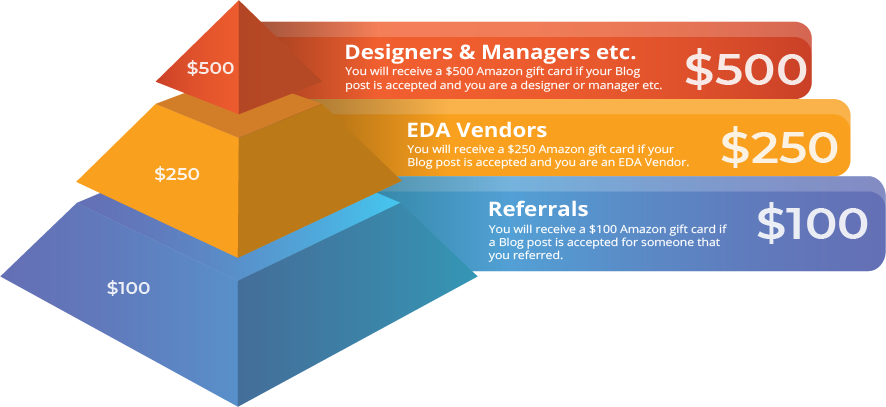 Can you write about one or more of these categories?
TECHNOLOGIES
Artificial Intelligence
IoT
5G
Security
INDUSTRIES
Automotive

Mobile Computing

Gaming

Storage

Infrastructure

Medical

EDA

Semiconductor IP (SIP)
DESIGN & METHODOLOGY
EDA
Design and IP Management
Digital Design
Analog Design
Mixed-signal Design
RF Design
Design Verification
Industry Standards
If so, we want to hear from you! We're looking for guest bloggers who can deliver actionable insight with a down-to-earth writing style. We like our blog posts to tell a story and educate our readers with real-world examples of positive strategies and/or insights for solving designer's problems.
Why Write for the Cliosoft Blog?
So others can learn from your knowledge, experience and/or insights!
Plus a $100-500 Amazon gift card or equivalent (see Submission Rewards below for details).
Sharing your knowledge helps stimulate innovation and growth. People will benefit in various ways 

with what you have to say and share. Why not help others!
You'll get more exposure, more readers, and more followers!
A post on the Cliosoft Blog is a strong writing clip. We give you a byline on the top of your post, and a bio box at the bottom, where you can link to your website and/or social channels such as LinkedIn.
We will selectively promote guest posts. Our Blog and newsletter reaches 12k+ subscribers, and we promote on multiple channels (LinkedIn, Twitter, and Facebook).
On top of that, our Blog's three latest posts are linked from our home page which averages thousands of page views per month.

You can choose to have your Blog post posted under your own name, a pen name, or anonymous.
Feel free to write under your own name for maximum exposure or create a pen name or remain anonymous if you prefer. The choice is yours!
Why We Want You
Great insight from a subject matter expert like you gives our audience the strategies and insights they're looking for with a fresh perspective. They're eager to keep on top of the latest industry news and information. They're thirsty to learn how to do their jobs even better. They want to hear stories about what's working for our technologies, industries, and design & methodology.
If you can supply that, we want to hear from you and send you an Amazon gift card to say thanks!
How to Get Started!
STEP 1:  Download Blog Post Templates
(click to download)
STEP 2:  Check Out These Resources
STEP 3:  Submit Your Blog Post
Rules and Guidelines
You can choose to have your Blog post posted under your own name, a pen name, or anonymous.
Any topic relevant to the semiconductor industry is welcome
Articles on design and IP management are encouraged but not limited to
Blog post must be at least 800-1000 words (ideal post length is 1600-2500 words)
Illustrations make the Blog post more interesting and engaging (try to include 1-2 illustrations)
Blatant promotion of a particular product or company is not allowed
No duplicate content unless you own the rights for the content
Respect copyrights and trademarks of others
No deceptive content
Properly cite and backlink your sources

You may submit a short bio statement (no more than 50 words) that may or may not be used at the beginning of the article.
Example Blog Post Ideas
10 Reasons Why RISC-V is the Future
How Semiconductor IP (SIP) Licensing Models Are Evolving
A Look at Automotive Architecture Changes Over the Past 5 Years and Why
Challenges Managing Semiconductor IP (SIP) Across the Enterprise

How 5G will enable tens of billions of IoT devices

A

dvances in modeling, simulation, and design automation tools for 5G RF front-end design

Challenges for new AI processor architectures

An IoT Overview on Zero-Touch Provisioning

Securing 5G and IoT with fuzzing

How Giants (such as Google, Alibaba, Facebook, etc.) are changing the design and system integration dynamic?

3 Biggest Challenges Facing the EDA Industry
The Need for Standards to Enable the Adoption of Chiplets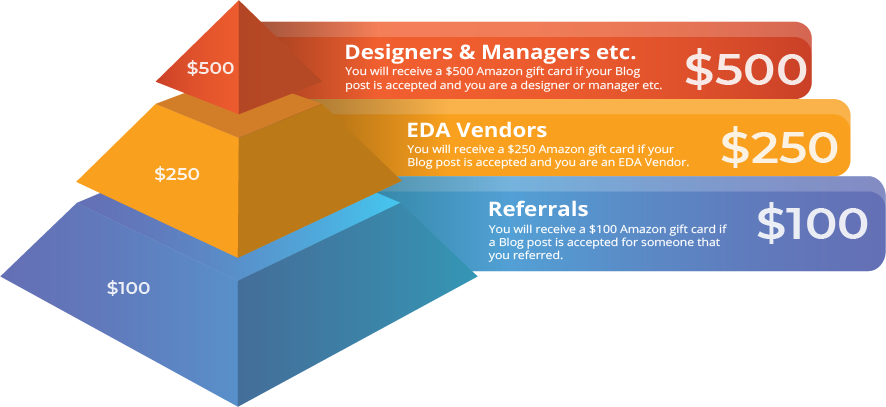 $500 – For Designers & Managers etc.
You will receive a $500 Amazon gift card if your Blog post is accepted and you are a designer or manager etc.
$250 – For EDA Vendors
You will receive a $250 Amazon gift card if your Blog post is accepted and you are an EDA Vendor.
$100 – For Referals of Accepted Posts
You will receive a $100 Amazon gift card if a Blog post is accepted for someone that you referred.