We built Cliosoft VDD for schematic & layout engineers using
Cadence® Virtuoso® Platform and

to make ECO reviews easier.
schematic engineer
Find differences between two versions of a schematic. Communicate the changes to the layout engineer with an automated diff report. 
layout engineer
Keep your layout in sync with the latest version of a schematic.
eco design reviews
Know what to review at ECO review meetings – everything is reported, nothing is overlooked. 
Qorvo

Cliosoft's SOS design data management platform is very useful for collaboration among our designers in Vietnam, the USA, China and Japan. It ensures that the design data is automatically synced up at all sites without any penalty on performance or engineering effort. Their SOS data management ...
On Semi

Cliosoft's data management collaboration platform has helped us manage design data from digital, analog, and RF teams at multiple sites, improving design team productivity as we develop high-performance CMOS RF and mixed-signal semiconductors for the cellular industry. The ...
Cadence

SOS is the most intuitive source control user-interface we've tried. Our engineers are up and running in minutes rather than hours - without any training on the product whatsoever. While it is difficult to put quantitative numbers on a product like this, we are certain that our time spent in ...
Infineon

We have been extremely satisfied and delighted with the SOS Software for Configuration Management from Cliosoft. It enabled the design teams to improve collaboration in designing Analog, Digital and Mixed-Signal chips with confidence and efficiency without compromising performance. ...
Marvell

In all my years in IT (almost 20) I've never received technical support from a company that is as good as what I've got from Cliosoft. I have used a bunch of different revision tools (RCS, RVS, SCCS, Subversion, Arch, Vss, SourceGear's Vault, DesignSync), and though most are open source, ...
Elmos

At Elmos, we design and manufacture ISO26262 compliant SoCs for the automotive industry. Since 2014 we have been using Cliosoft's SOS design management platform to collaborate between designers located at multiple sites and improve the productivity of our design teams. Robustness of ...
Creative Chips

Cliosoft's SOS data management platform has helped us collaborate between designers located at multiple sites and improve the productivity of our design teams. Performance of SOS across sites has proved great even via slow WAN links thanks to local cache servers. Their tight integration with EDA tools ...
Invecas

Apart from the obvious advantage of design groups from different parts of the world being able to collaborate on a single project by using the SOS hardware configuration platform, VDD enables us to manage ECOs better by letting us see changes in layout and schematic across different versions ...
Lattice

Lattice Semiconductor prides itself on the ability to design ultra-low power, small form factor, customizable connectivity and control solutions for a variety of markets. We accelerate our customer's time to market with products that offer innovative features and competitive differentiation. Cliosoft's ...
Imagine Technology

Cliosoft's SOS design management platform has helped us collaborate efficiently between designers located at multiple sites and improve the productivity of our design teams.
Cliosoft's SOS design management collaboration platform has empowered our global design teams ...
Hilscher

After using Cliosoft`s SOS for many years we adopted the software also in our start-up team. Its ease of use and high reliability make it a natural choice for us. Even though we are working now in a much smaller team we believe that data management is essential for the design-process ...
Teledyne Dalsa

DALSA uses Cliosoft's SOS Design Collaboration Platform to help us manage shared design data among design teams world-wide, during the active design process. The product has definitely helped our productivity as we design, develop, and manufacture digital imaging products and solutions, ...
Qualtre

With Cliosoft Visual Diff, I no longer have to wonder "What changed?". I can see it. ...
Synopsys

Cliosoft's SOS design management platform has helped us collaborate efficiently between designers located at multiple sites and improve the productivity of our design teams.
Synopsys is the number one provider of embedded non-volatile memory with antifuse technology and is ...
Synaptics

Synaptics has been using Cliosoft SOS and SOS with DF2 interface for three years. During this time, the user pool has gone from 16 to 100. Almost 20% of the company has accessed Cliosoft SOS either through the SOS command line, SOS revision control of text files, SOS revision control via Cadence DF2, ...
Valens

To develop best-in-class solutions for the automotive industry, an ISO 26262-certified design management platform is a must. Last year we adopted Cliosoft's SOS design management platform and found it to be a scalable and configurable solution that meets our requirements of ...
Tektronics

We've found that a DM infrastructure, properly defined and executed, increases the likelihood of first-pass silicon success by decreasing mistakes caused by the use of obsolete data. Cliosoft's new SOS platform should help us share data and greatly ease the task of moving personnel between ...
Microsemi

My company has eight design offices distributed across America and Europe developing chips for Network Communications Ultra Low Power markets. I am responsible for the EDA Infrastructure within the company. We have used SOS as our standard configuration management solution for several ...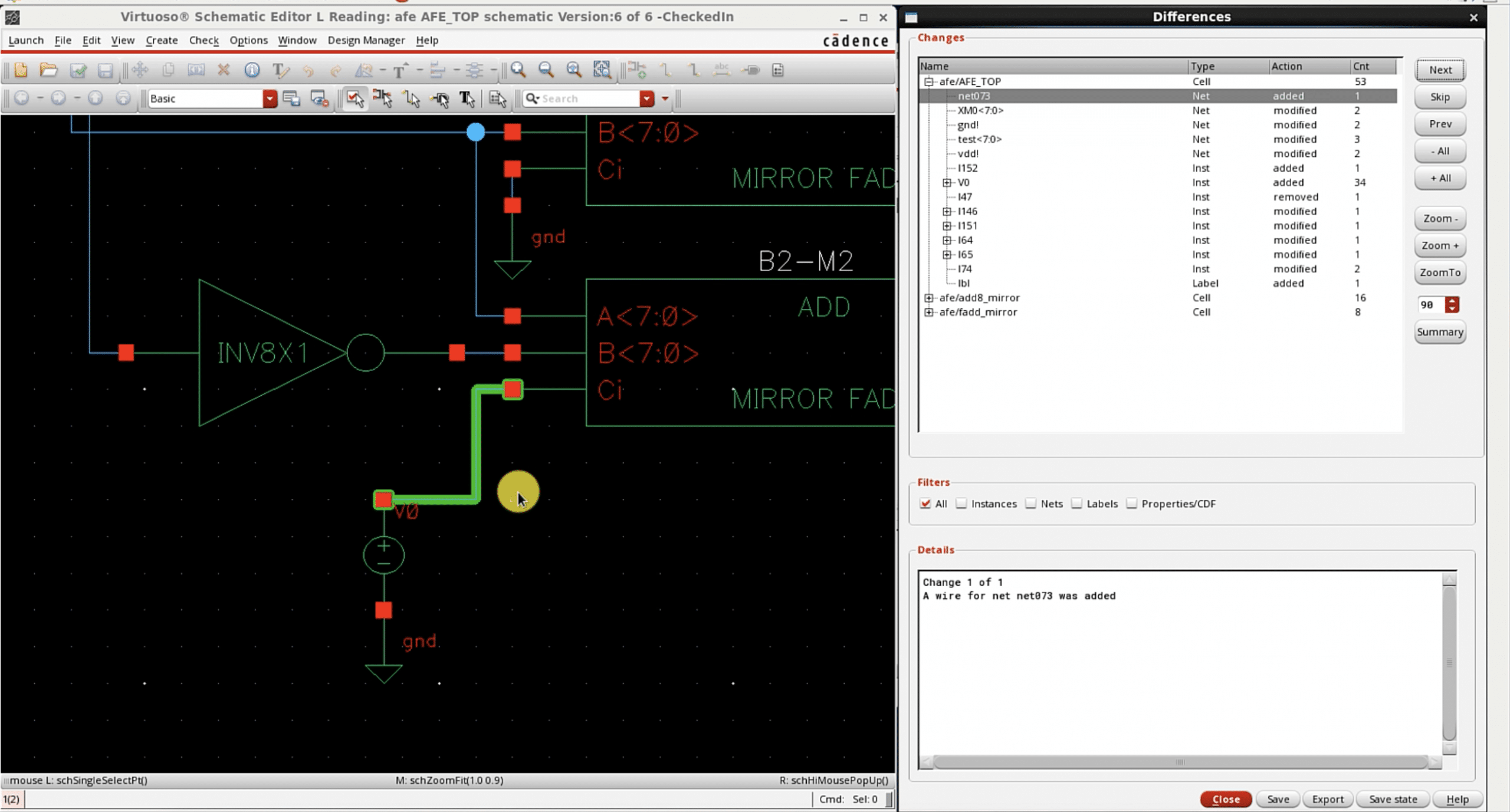 KEEPING SCHEMATICS AND LAYOUTS IN SYNC
Cliosoft VDD helps schematic and layout engineers using Cadence® Virtuoso® Platform to collaborate and ensure that the latest schematics and layouts are 100% in sync. A schematic engineer can make changes to the schematic without keeping notes to report to the layout engineer. The layout engineer can see all the changes precisely without any help from the designer and can modify the layout to match the latest schematic changes. 
CHECK-INS MADE
ACCURATE
Cliosoft VDD allows you to review your changes before check-in by automatically generating a report that is 100% accurate. Every change is outlined, even cosmetic changes between the new version of your schematic or layout vs. the old version. You also have the ability to suppress cosmetic changes and not show them.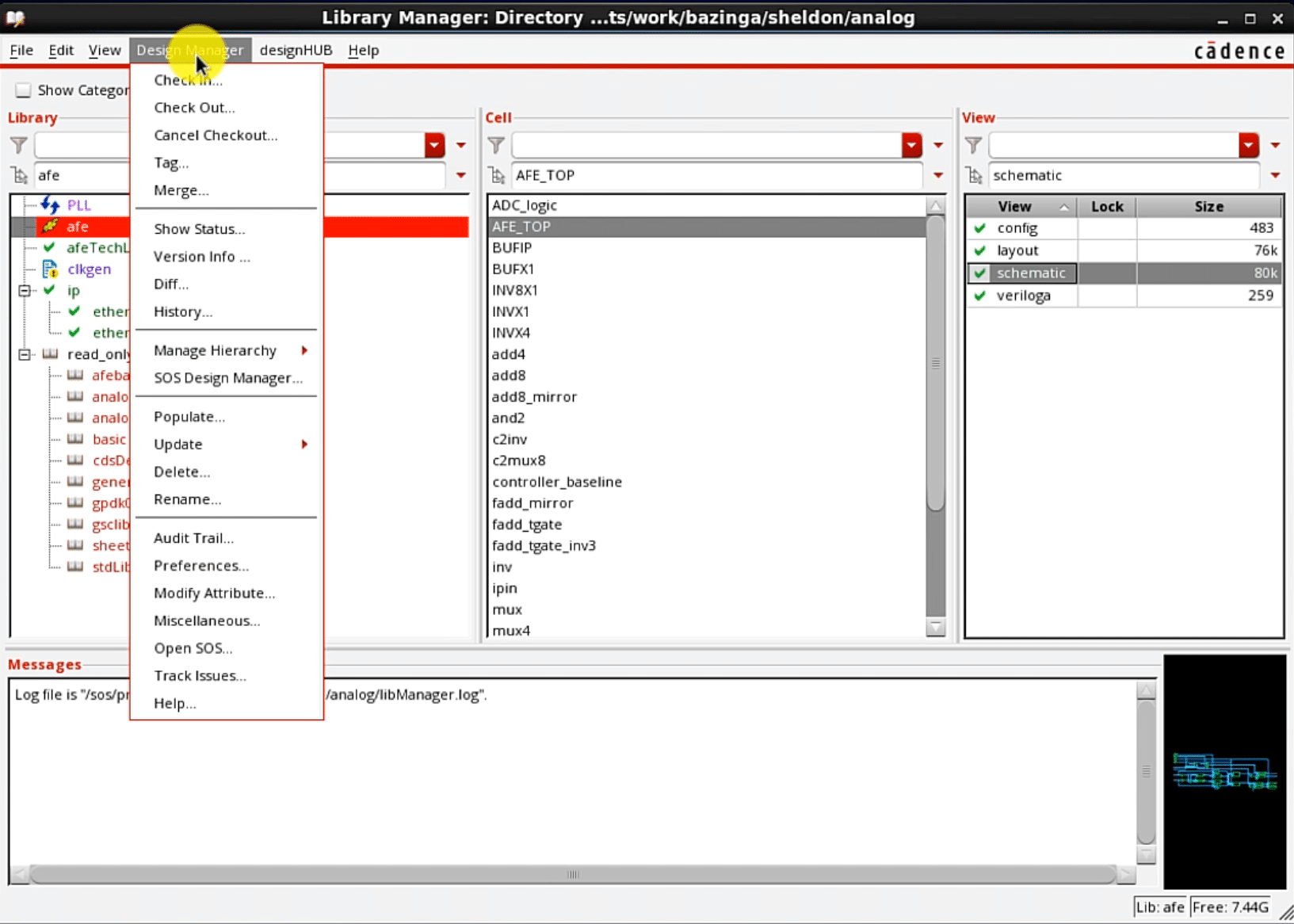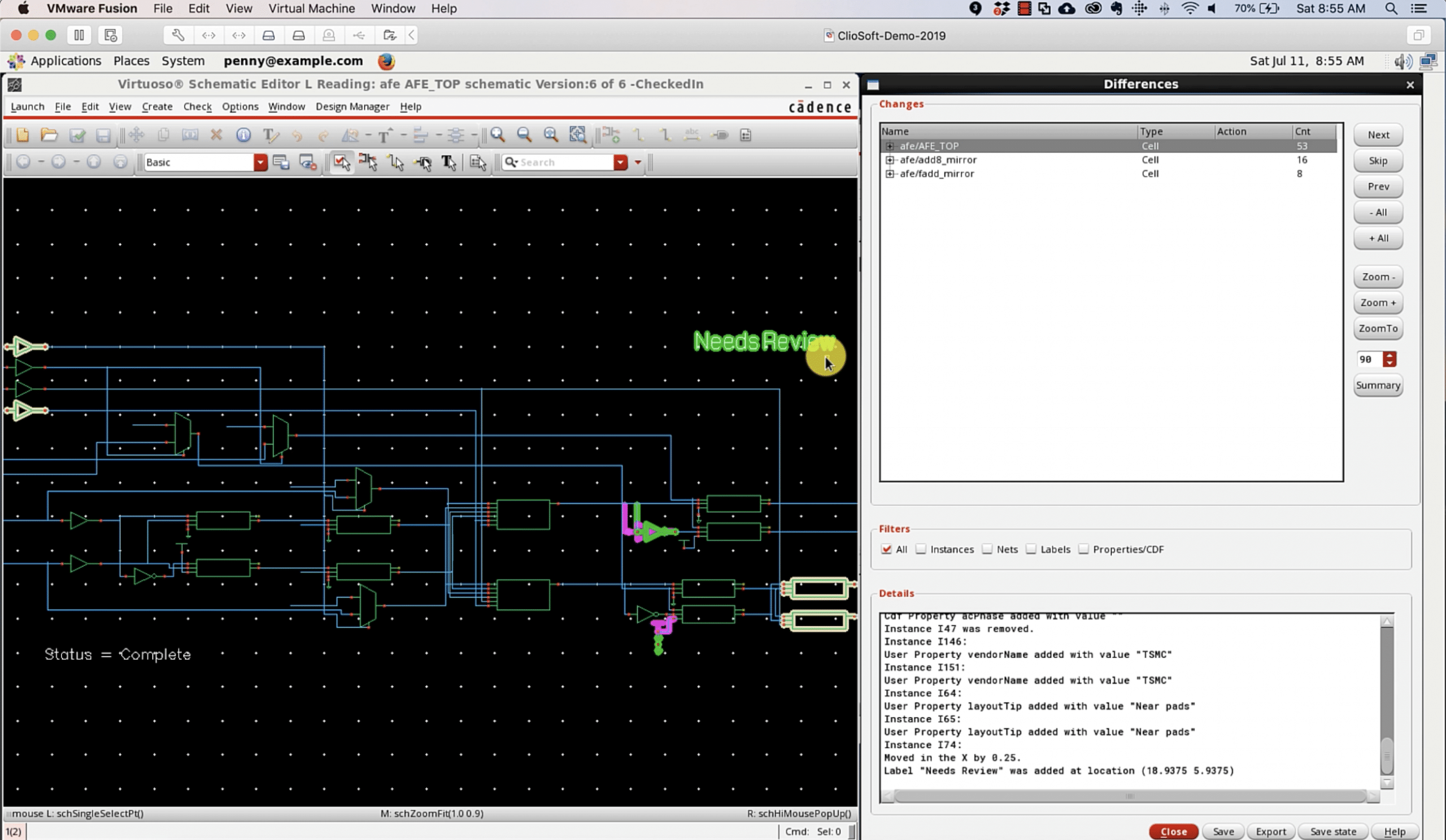 ECO DESIGN REVIEWS JUST GOT A LOT EASIER
Cliosoft VDD makes preparation for ECO review meetings easy. Automatically generate reports outlining all the changes ahead of your next ECO review meeting with management. Nothing is missed and everything is reported for you.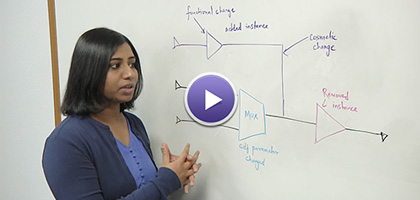 Prathna Sekar, technical account manager at ClioSoft, explains the challenges of managing analog versus digital IP, including how to deal with dozens or even hundreds of versions of a schematic…